Breaking the chains
Fifty years ago, Indian immigrants brought lavish traditions of buying wedding jewellery to Britain. But today, a new generation is making its own choices — and turning its back on the past. By Aliya Ram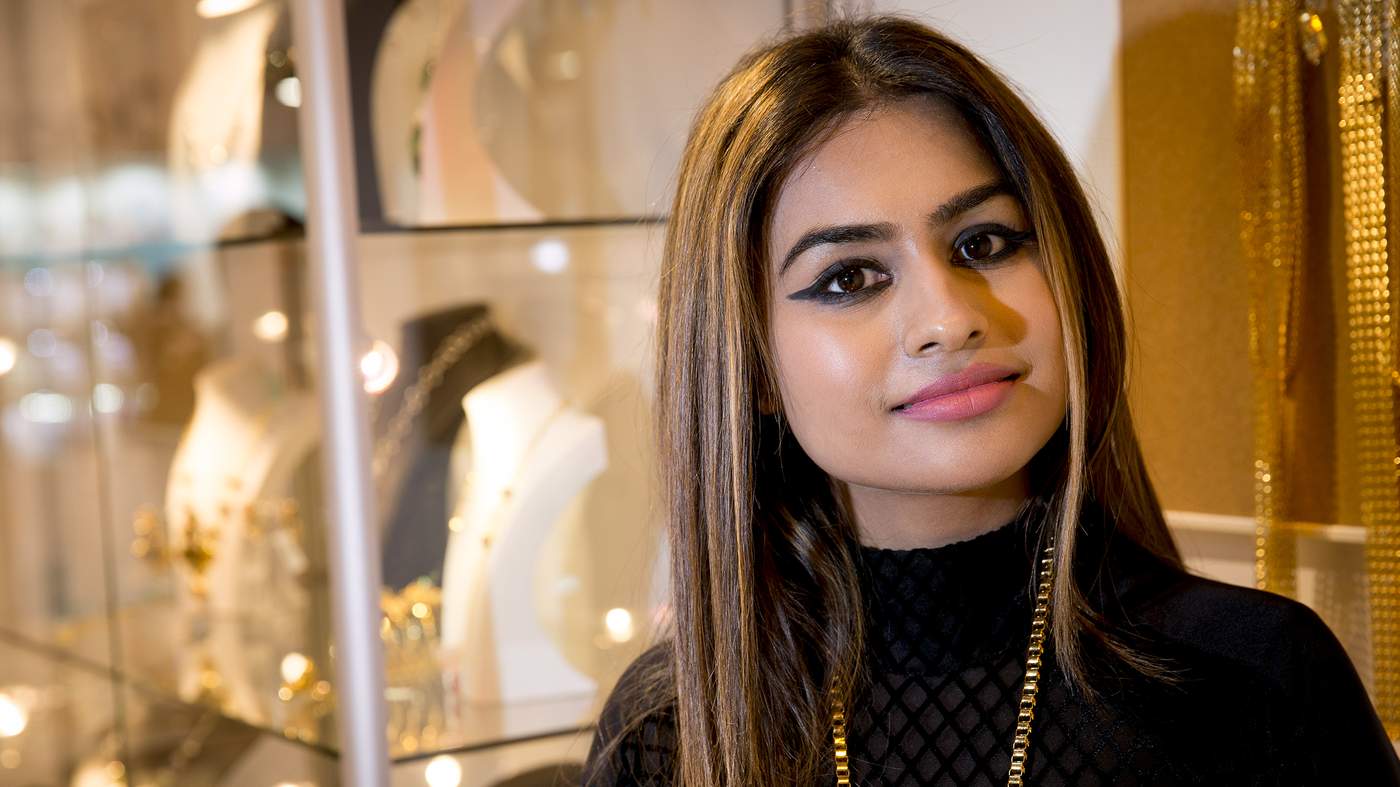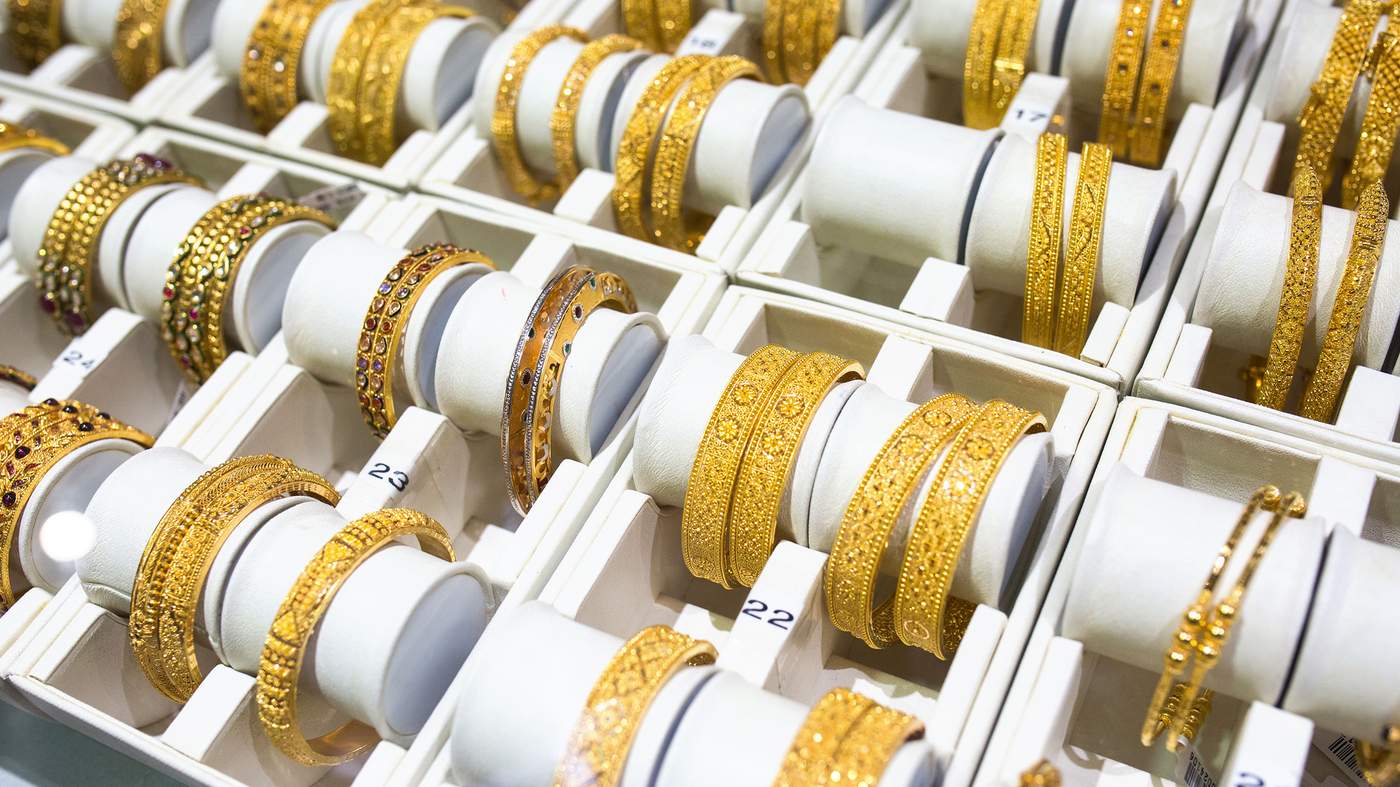 Last year, India's Supreme Court ruled that women have an inalienable right to certain property after marriage. Brides, the court said, can lay claim to their stridhan, even if they leave their husbands without getting divorced. This stridhan, whose name comes from ancient Hindu law, is the gold and jewels given as gifts by families to their daughters as insurance for life after marriage.
For many communities in South Asia, where banking systems are unevenly developed and gold is sometimes the most trusted mechanism for transporting wealth, stridhan is the only property a woman explicitly owns.
The marriageable woman, in this way, is the backbone of the Asian jewellery market. But as first-generation immigrants in Britain who brought these traditions over are succeeded by their children and grandchildren, the market is being forced to reinvent itself.
India consumes approximately 1,000 tonnes of gold a year — about a third of the world's supply — according to India's Gem Jewellery Export Promotion Council (GJEPC). This appetite has been exported with its diaspora; the 2011 UK census had 2.99m people of South Asian origin. In the UK, Asians spend more than £220m a year on 22-carat gold and diamonds, says Pravin Pattni, a former chairman of the National Association of Jewellers and the first person of Indian origin to hold the position.
According to Mr Pattni, the average South Asian family spends between £20,000 and £25,000 on a woman's wedding jewellery — but now assimilation into British culture is changing this. A trip to Sparkhill, the centre of Birmingham's "Balti Triangle", bears this out. Dotted amid halal butchers and Punjab supermarkets selling clay pots and steel dishes, a handful of jewellers sit behind locked doors, guarding their stock. A number have their shutters down and appear to be out of business.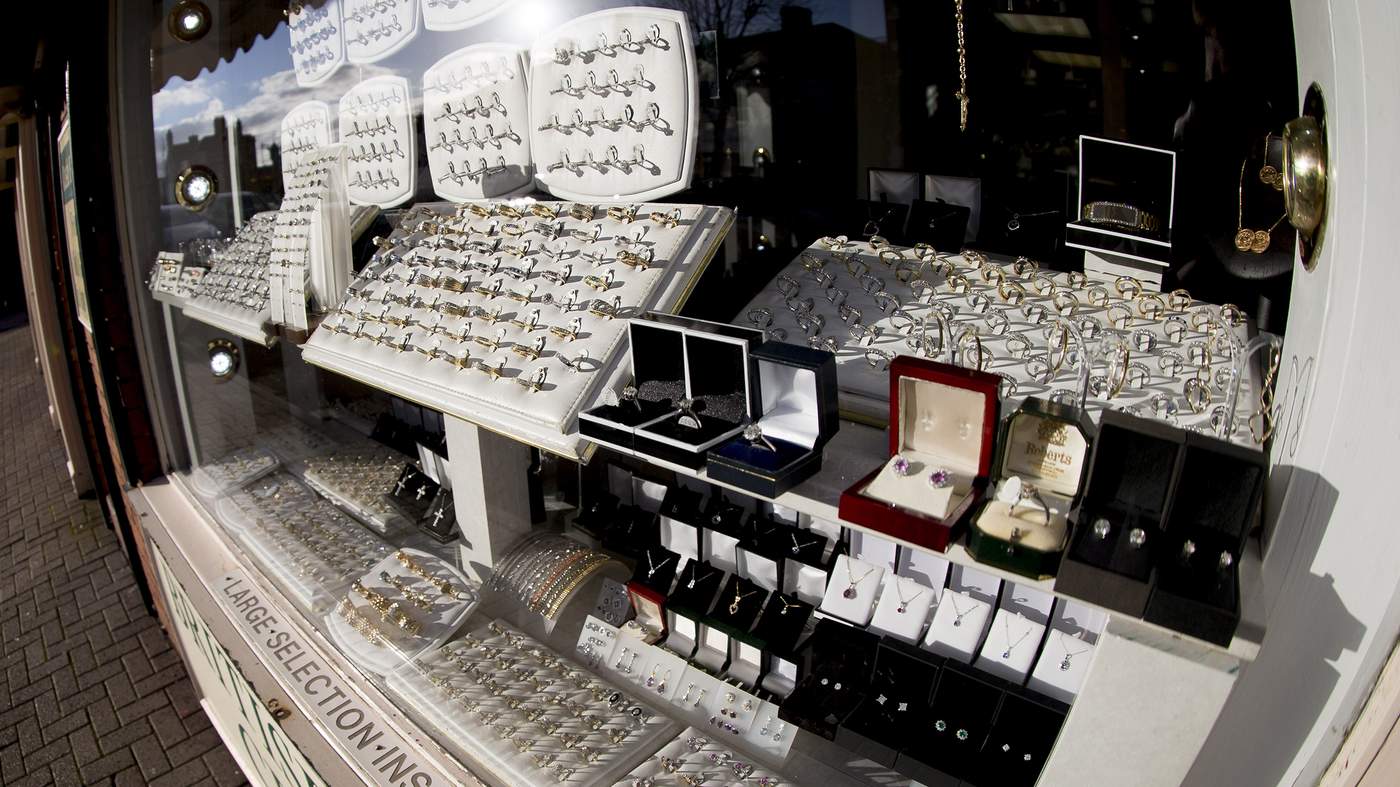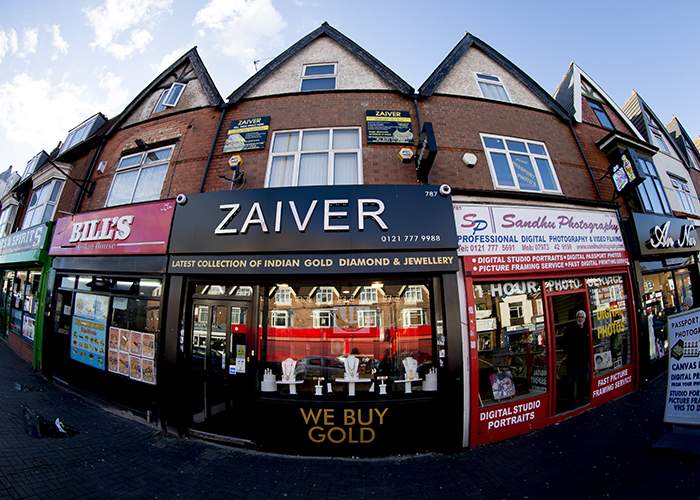 Once the centre of a bustling jewellery trade, Sparkhill jewellers now more often make headlines for the crime they attract. One goldsmith, Atif Sheraz, says he was robbed while walking between his shop and his car. The display cases inside his store are bare — you must ask in order to see anything — and customary masala chai tea is not on offer.
Birmingham boasts one of Britain's densest South Asian communities, with more than a fifth of its population having Indian, Pakistani or Bangladeshi origin, according to the 2011 census.
But according to Jaimin Soni of jewellers AG & Sons, who paid £4,000 to display his diamonds at this year's annual trade fair in Birmingham, the key to survival for Asian jewellers is cross-selling to the larger British market, which is worth approximately £2.5bn a year.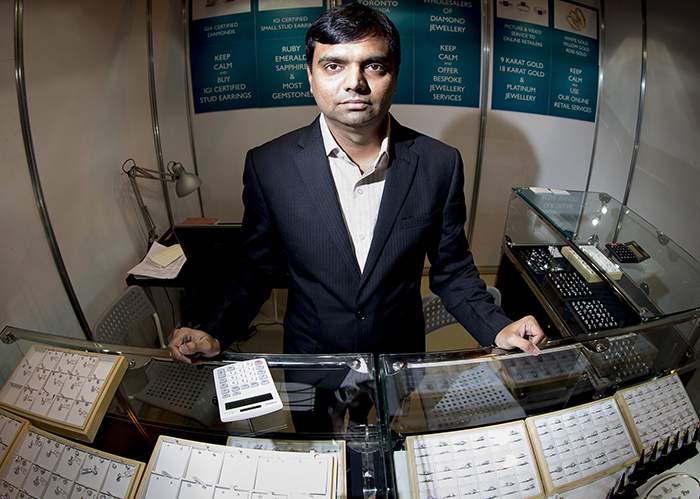 The Jewellery & Watch exhibition is what fair portfolio director Julie Driscoll calls "a mammoth security operation" for "very high value jewellery". It takes place in the city's National Exhibition Centre because it is the only building large enough to host the spring event of which the fair is a part.
But Ms Driscoll says "there wasn't appetite" for Indian wholesalers at the show. "My understanding is that [British Asian] jewellery is very different. Would it appeal to independent retail jewellers in the UK that would sell it to UK consumers? To my knowledge," she says, "there is not a big trend for that at the moment."
I visited Mr Soni at his stall at February's exhibition. He insists it is possible to tap into European tastes without compromising sales to the Asian bridal market. He says simplified and more affordable versions of intricate Indian designs will do battle on all fronts. "When an Indian is buying jewellery, it's more an investment," he says. "But the British-Indian market is different."
A "goldsmith by caste", Mr Soni sees in the tastes of third-generation Asians the end of the British-Asian jeweller as it has been. Peering through his jeweller's loupe at a ring, he says he is determined to stay relevant. His game-plan is to try to gain market share from British rivals by offering better value for money.
Mr Pattni says that ethnic Asians arriving in Britain during the 1960s and 1970s from east Africa, where their ancestors were taken as indentured labourers, clung to the idea of gold as insurance — a safe investment in a strange land. "First-generation Indians came here and bought lots and lots of gold and gave it to their children so they wouldn't need a plan B."
In Birmingham's Jewellery Quarter, once the heart of Britain's jewel trade, shopkeeper Ken Taylor smiles knowingly. "That's the way Asians see it," he says. "Gold is gold if you can sell it any day of the week."
But as the price of gold rises, Mr Pattni says it will become less affordable to buy 22 carat, the Asian staple, and even stalwarts will move to lower quality gold, silver and platinum.
He grins as he acknowledges the wisdom of forebears who recommended the metal to him for investment purposes; at the time of our interview in February, gold had reached a one-year intraday trading high of $1,260 an ounce.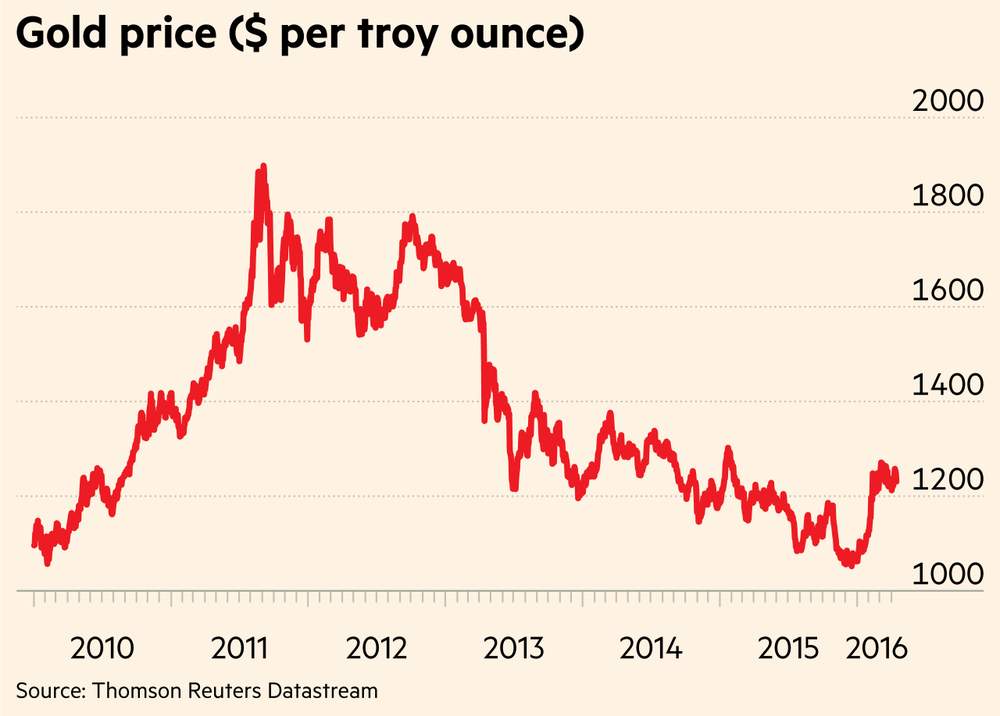 Today, the market for Asian jewellery faces the same pressures as the mainstream. Karla Rendle, an analyst at Euromonitor International, says the retail jewellery industry in Britain has consolidated and that the fragmented Asian jewellery trade will head the same way.
"Branded jewellery is on the rise. Where people would have looked for a particular metal they will now look for a Pandora bracelet.
"With Indian jewellery there's always going to be the independent store that people know of and go to, but we're seeing a bit more in terms of brands." Ms Rendle says even if shops close, Indian designs will survive and influence fusion trends in the mainstream.
Mr Pattni, however, says the direction of influence is the other way around: from the British population to the immigrant.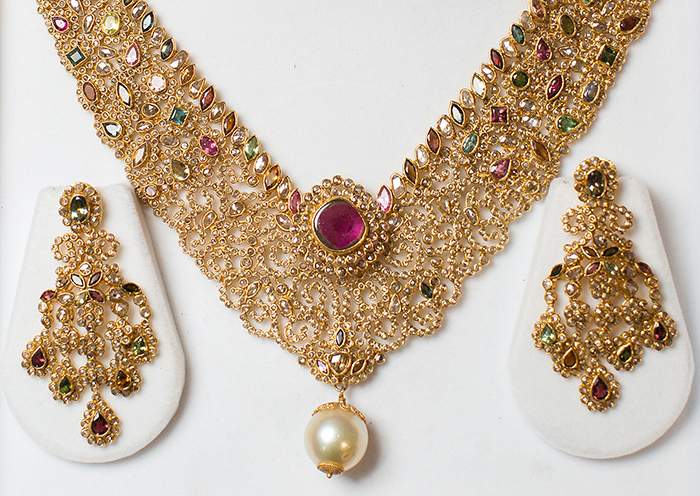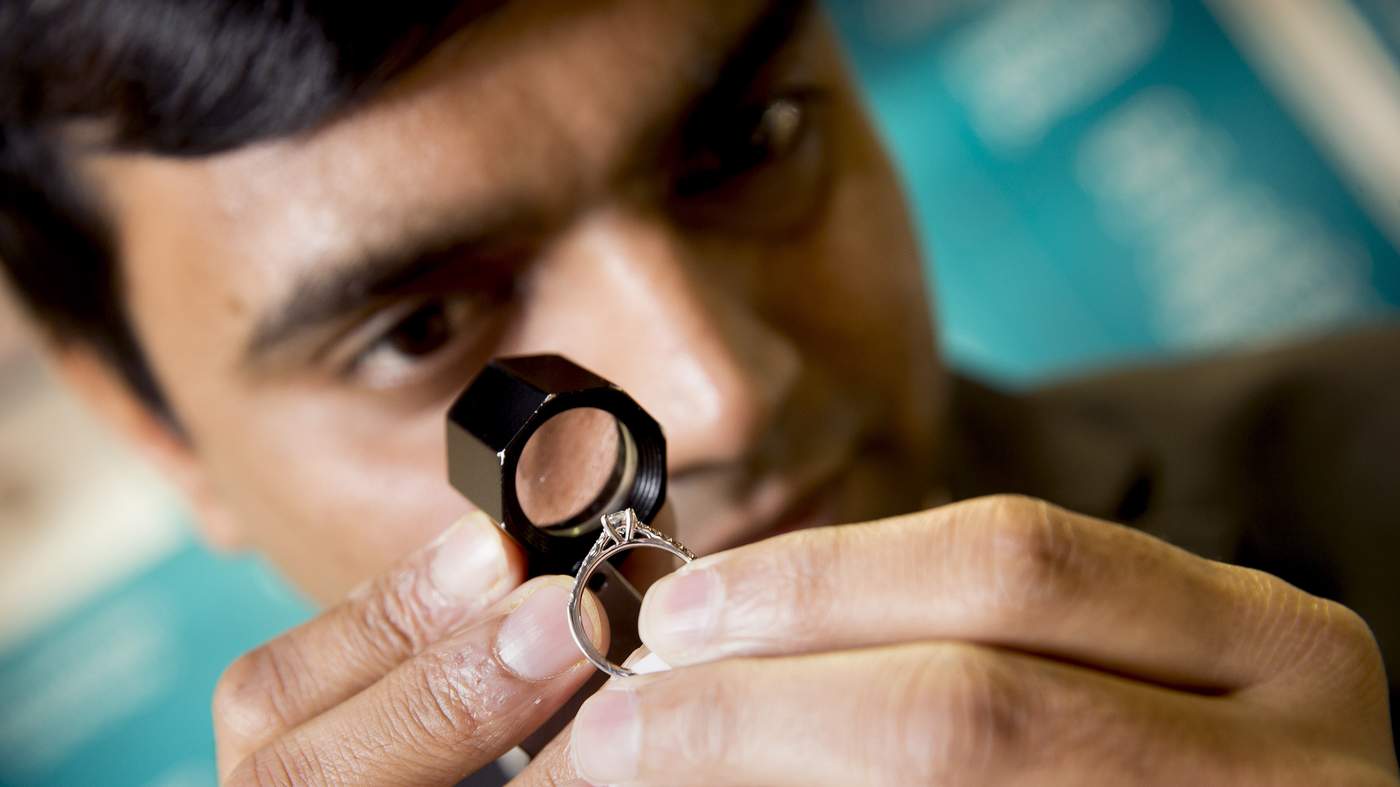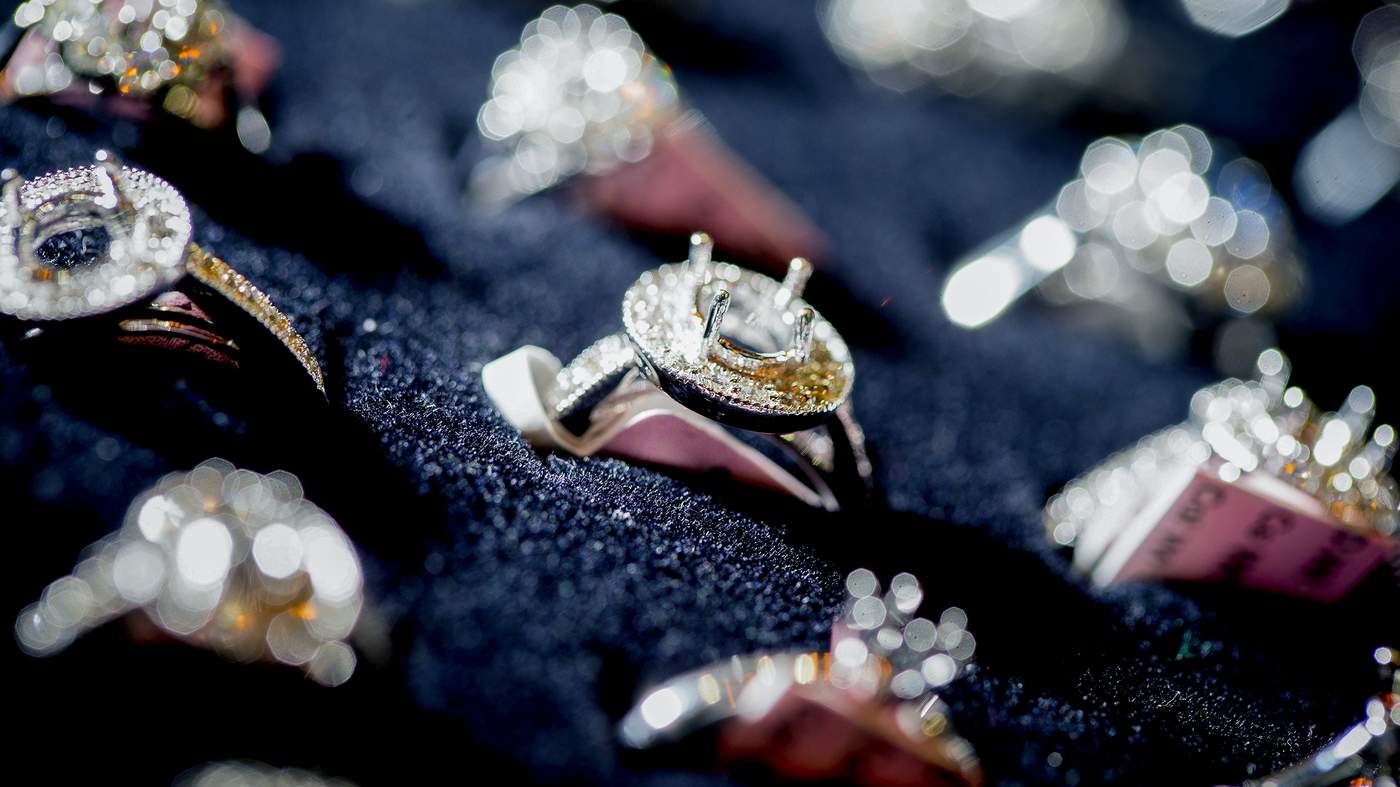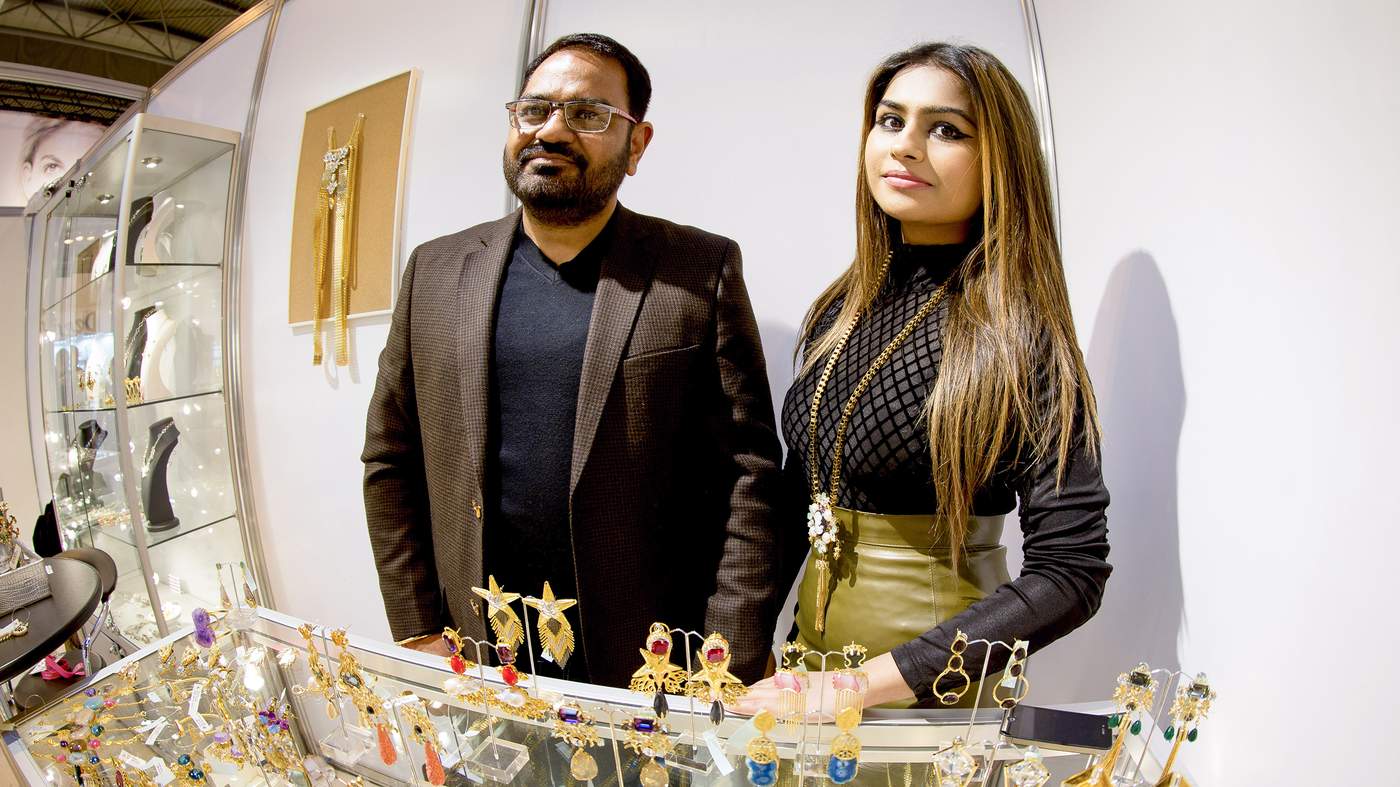 Ravleen Ruppal, 23, from Chandigarh in Punjab, travelled from India to Birmingham with exactly this change in mind. She took a stall at the Jewellery & Watch fair in the hope that she could sell her upmarket costume necklaces and earrings, which marry Indian motifs with large Victorian-style stones.
"We Asians," she says, "we're not as Asian as we would like to think."
A group of disgruntled Pakistani shoppers at the fair seem sceptical of South Asian jewellery that has been influenced by European styles, which they say also allows branded exhibitors to charge higher prices. "There are Asians selling on the street anyway, so why would you come here?"
Prices at Asian jewellers tended to be lower than at the fair, the disgruntled shoppers say, because manufacturers use family or business ties at home to source raw materials and save on labour costs.
Indeed, India is now playing a more important role in jewellery exports than ever before. India's diamond exports have almost doubled compared with 10 years ago, according to data from the GJEPC. Indeed, Sabyasachi Ray, the GJEPC's executive director, says almost all diamond jewellery from India is exported, unlike jewellery made of gold. "Whatever we produce in diamonds, 95 per cent gets exported," he says.
Mr Soni saves on production costs by sourcing diamonds in Mumbai or Surat, port cities in the west, and having them cut and manufactured in his home town of Ahmedabad, in the state of Gujarat.
Once the pieces have been imported into Britain, Mr Soni can sell them at attractive prices. His success speaks to the decline of jewellery manufacturers in Britain, many of which were originally based in Birmingham, "the city of a thousand trades" as it was once called, until cheap imports and recessions caused them to close down from the 1980s.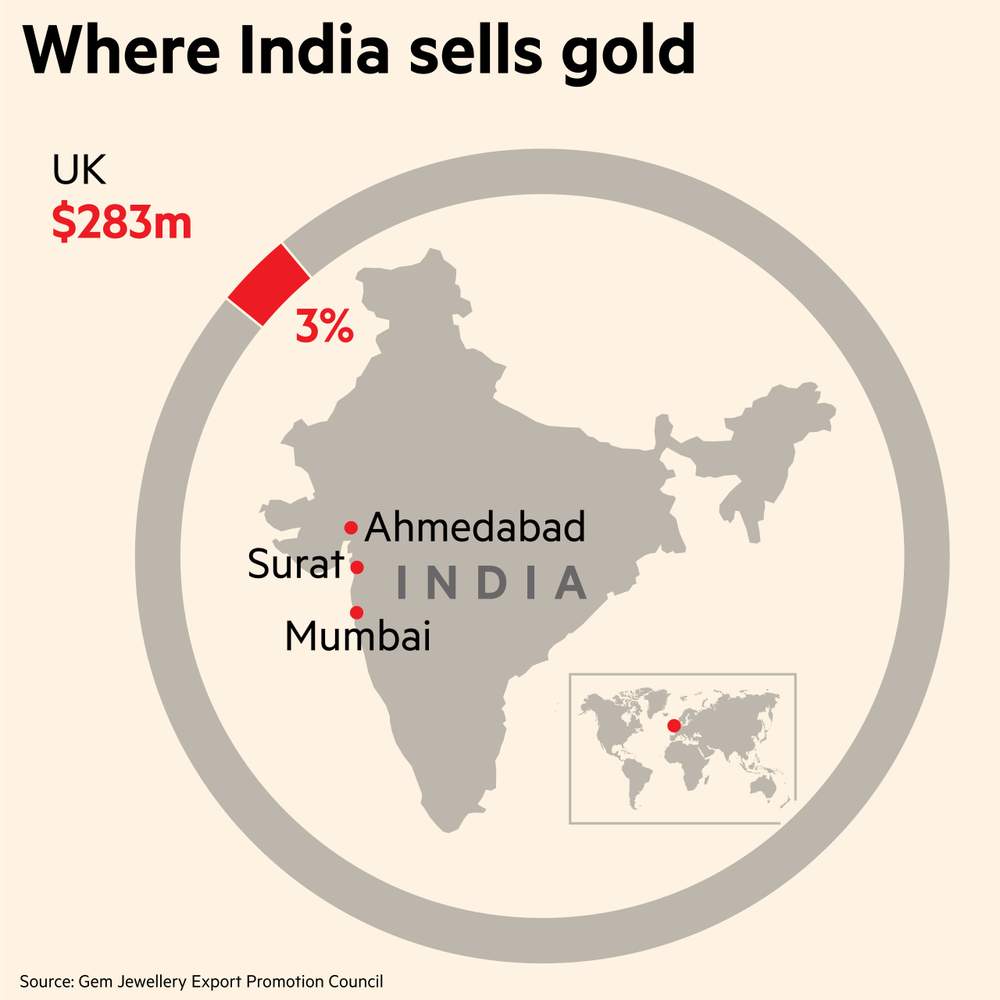 With Prime Minister Narendra Modi pushing a "Make in India" agenda to turn the country into a global centre for manufacturing, Mr Ray hopes the reputation of Indian jewellery will improve so it can fetch higher prices abroad. He says trade centres have already opened in Gujarat, Mr Modi's hometown, to promote diamond artisans.
But even he admits that demand for fine jewellery is slowing. "Jewellery is not growing, people are putting their money into [other] luxury items or holidays," he says. "If the demand has not declined, it has at least stagnated."
In the London borough of Newham, another heartland for British Asians, Jayant Raniga buzzes in a client as the daylight fades on Green Street.
Through the door walks Jag, a professional in her 30s, smartly dressed with brightly painted red nails. Beside her is a bespectacled old lady in traditional dress, her handbag clutched tightly. "This," Jag declares, "is my nani."
Jag's grandmother chatters in Hindi to Mr Raniga, the brand director at PureJewels and grandson of the man who brought the shop to Britain in 1975. Nani is from Kolkata, in West Bengal, which she still calls Calcutta, its imperial name. Jag speaks to Jayant in English.
For Jag, who has a full-time job and career ambitions, wedding jewels hardly seem a necessary hedge against the future. But she insists the inclination to buy gold as security has survived in her cultural consciousness: "Nani said buying gold is always a good thing as an investment."
Jayant Raniga of PureJewels:
Green Street, a long, still-grubby high road in which sari shops and curry houses bustle with the trade of a large British-Indian and Bangladeshi diaspora, boasts dozens of shops still targeting women like Jag. The area is poor, but a multi-million-pound South Asian shopping mall that opened on the street last year suggests a belief in future fortunes.
Still, Mr Raniga, who has become an unofficial spokesman for Green Street, says he is looking to move. "Our future clients don't want to shop in the Asian areas except when it's wedding time," he says. "To have Jag aspire to own one of our rings is rare, it means we've punched above our weight."
Mr Raniga, who has experience in private banking and risk management with Merrill Lynch and Deutsche Bank, took over PureJewels in 2003. The business began as Bhanji Gokaldas and Sons in Nairobi, Kenya, in 1950, and Mr Raniga now wants to take it to a more affluent area of London, such as the West End.
Until then, he focuses on the client at hand. Jag has removed from its case an enormous wedding ring made of multiple snaking bands of diamond-encrusted platinum. She sighs. "Now my only problem is finding a groom."
April 28, 2016: This article was updated to correct India's gold consumption: it is 1,000 tonnes a year, not 100,000
Credits
Written by Aliya Ram
Photography by Neville Williams and Anna Gordon
Edited by Josh Spero
Graphics by Graham Parrish
Filming by Alan Knox
Production by Alan Knox, George Kyriakos and Josh Spero
If you enjoyed this, you might also like the FT video Gold — our dangerous obsession