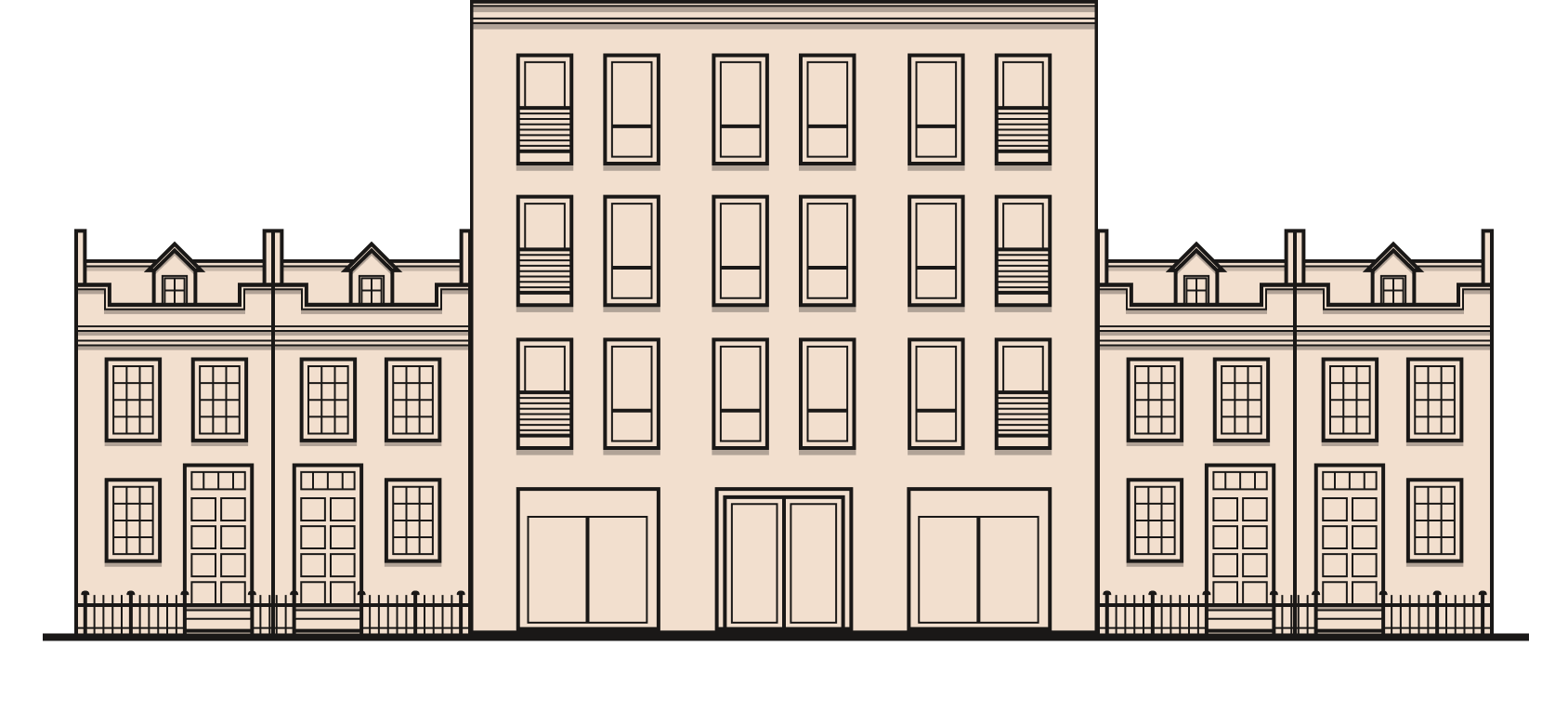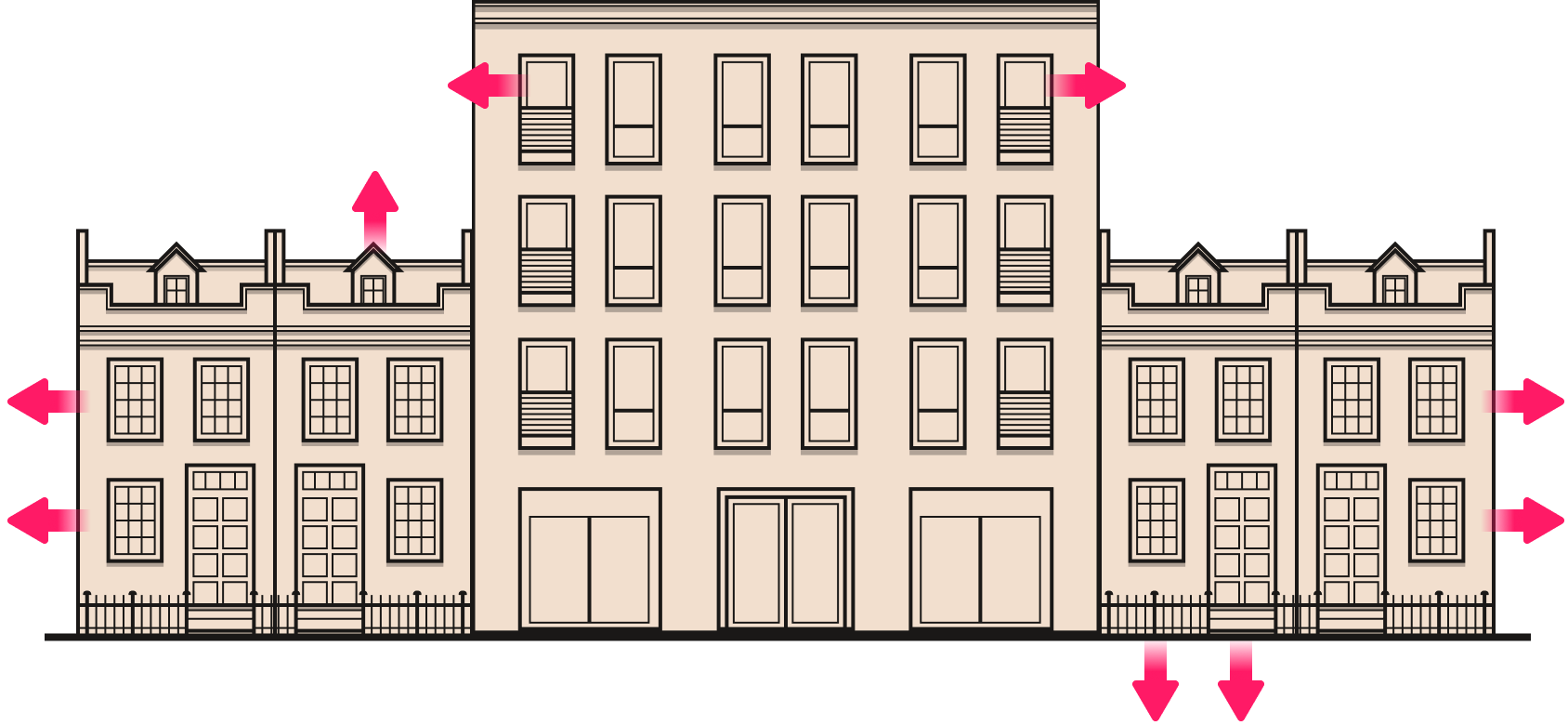 Britain's homes are ill-equipped for the fuel crisis looming this winter. The country's housing stock is older and less well-insulated than that of almost any other nation in Europe.


New research reveals the scale of this energy efficiency gap. It finds that across England and Wales, more than £10bn could be saved on energy bills each year if leaky homes were upgraded to higher standards.


For the average household, this works out as a £390 annual saving — even after accounting for a government support package that will absorb part of the fuel price increase this winter.
How might efficiency upgrades change your bills? If you live in England and Wales, enter your postcode below to find out.
Alternatively, keep scrolling to read more about the national picture.
The national picture
How UK households could save £10bn a year by making homes more energy efficient
This winter, people all across Europe are bracing for exorbitant energy bills. Some will be panicking.
Market prices for gas and electricity have risen sharply compared to previous years, making it far costlier to run households and businesses. In the UK, the average home is expected to spend nearly twice as much on energy as it did last winter, despite the government footing part of the bill through the so-called energy price guarantee.
Rising prices have been exacerbated by what energy experts describe as a scandalous lack of funding for upgrades to the UK's housing stock, which is one of the oldest in the world. The policy has left the country especially vulnerable to fluctuations in international energy markets.
New research using publicly available energy performance data for 20mn homes in England and Wales lays bare the impact of this energy efficiency gap on household bills. It models, down to an individual property level, the bills that households will face and how much lower they could be if their home met higher insulation standards.
Professor Thiemo Fetzer from the University of Warwick, who led the research, says that years of low energy prices coupled with poor delivery of policy interventions have caused the UK to fall behind on improving its housing stock — and ultimately left large swaths of the population with inefficient homes and higher bills.
Fetzer and his team estimate that £10bn could be shaved off households' bills every year with an upfront investment of £60bn-£65bn. The government says its energy price guarantee subsidising gas and electricity bills will cost £31bn for just six months.
The analysis shows two very similar properties in the same neighbourhood could consume vastly different levels of energy depending on whether they have been upgraded with features such as wall or loft insulation, window glazing or a more efficient boiler.
"A household that has made these types of upgrades would be much more insulated from [a fuel price] shock," Fetzer says. The new study reveals which regions of England and Wales are most exposed to rising prices and where the biggest energy savings potential lies, he adds.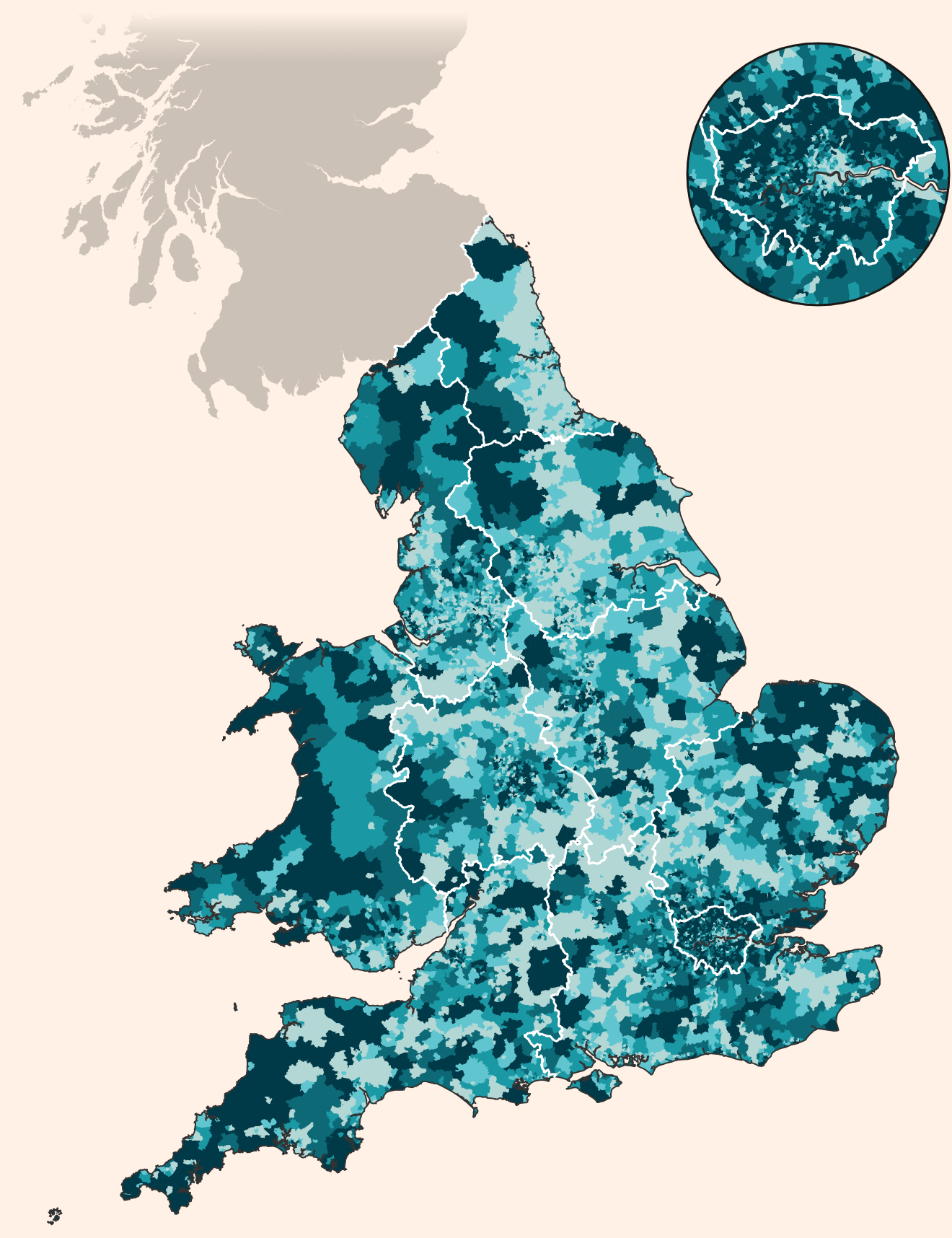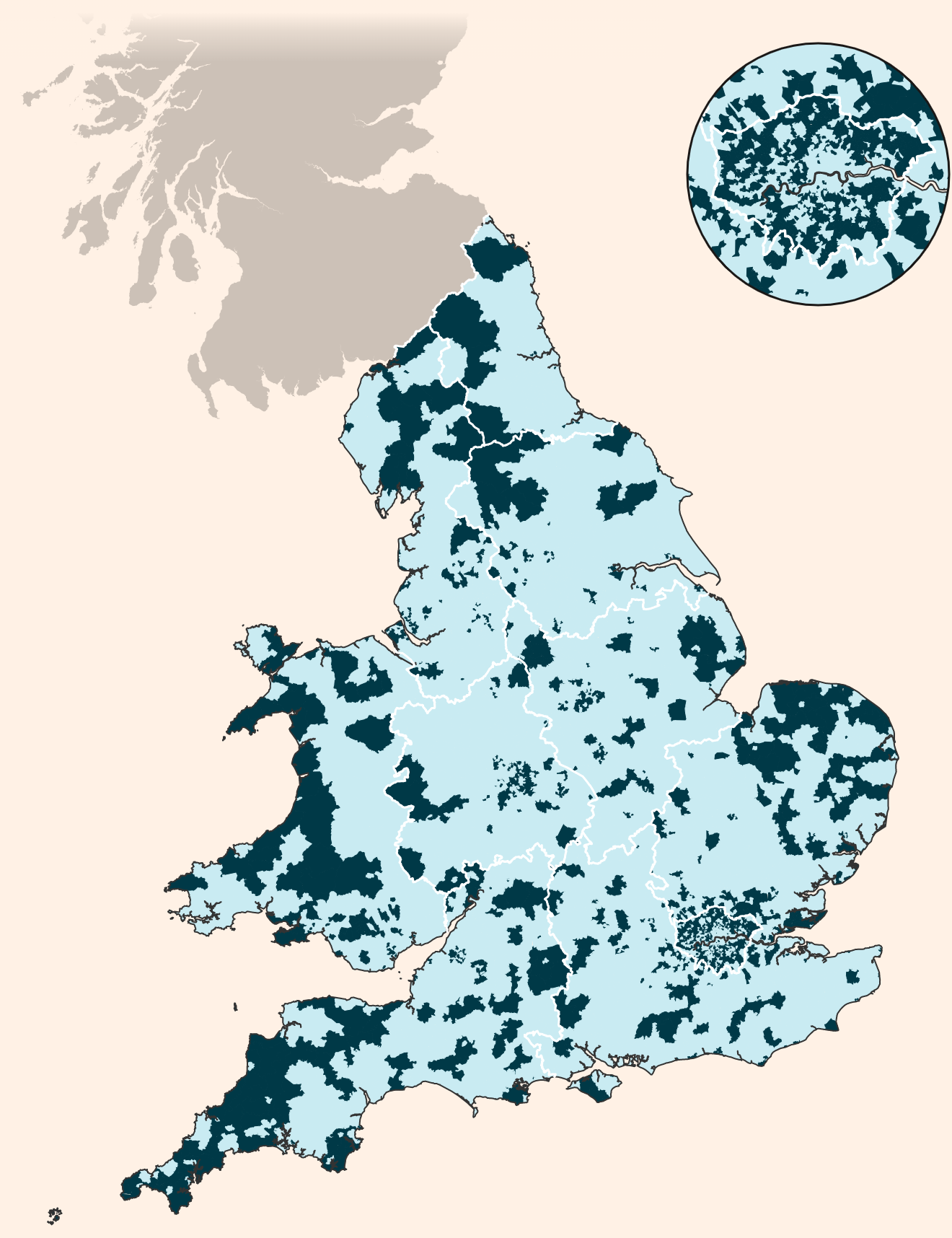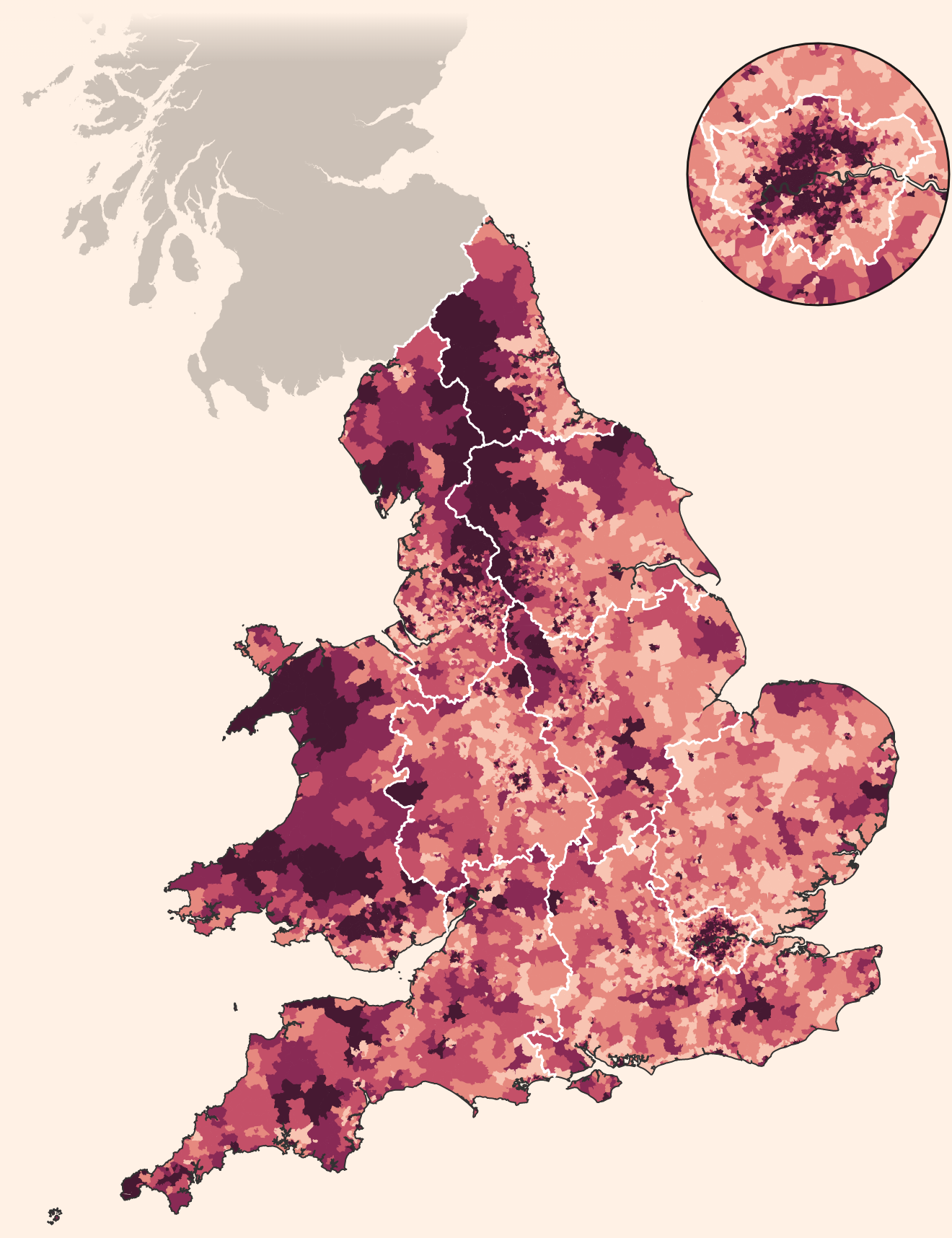 In some parts of England and Wales, the average household would save as little as 6 per cent on energy bills by improving insulation, indicating a modern and highly efficient general standard of homes. But in other regions, the average saving could be more than a quarter of the total annual bill.
The areas with the highest savings potential are spread all over the country, from countryside villages in Wales or southwest England to large parts of Greater London.
One key factor determining energy efficiency is the average age of homes in an area. Homes built before 1930, many of them dating back to the Victorian era, still dominate many parts of the country, and they lack basic insulation that is commonplace in newer dwellings.
The UK's housing stock is the oldest in the world, according to a report by the Building Research Establishment (BRE), an independent consultancy.
Nearly 38 per cent of the UK's housing stock was built before 1946 — a higher proportion than in any EU country. The UK's homes are also significantly older than those in the US, where 15 per cent were built before 1945, and Japan — 2 per cent built before 1945.
Gillian Charlesworth, chief executive of BRE, says 80 per cent of the homes that make up the UK's present housing stock will still be in use in 30 years' time. This means that retrofitting existing homes will also be crucial to meeting the UK's commitment to net zero emissions, she adds.
Planning rules on heritage grounds further restrict the potential for retrofitting listed buildings, which include some of the country's oldest and "leakiest" homes. "We believe it is possible to protect both heritage and the environment," says Cem Kemahli, lead councillor for planning and the environment in the London borough of Kensington and Chelsea. In March the council became the first in the country to reform local planning rules to facilitate the sensitive installation of solar panels on its 4,000 listed buildings (1 per cent of the listed total). This week, Kensington and Chelsea took a step further with plans to ease restrictions on the installation of double glazing on such homes.
High energy prices strengthen the case for retrofits
Until the current fuel crisis, Fetzer says, cheap energy meant that households had little economic incentive to install insulation or other upgrades.
Installing cavity wall or loft insulation costs about £500 to £700 in a medium sized semi-detached house, while solid wall insulation costs upwards of £8,000. Double glazing, at a cost of roughly £500 a window, is another relatively pricey measure.
At 2021 gas prices, the upfront cost of cavity wall insulation would have meant that the upgrade started paying for itself after about 14 years. But with the recent increase in fuel prices, the investment now pays back in less than eight years.
"The incentives have never been stronger, I would say, because [fuel] prices are so high," says Jan Rosenow, director of the Regulatory Assistance Project think-tank.
He says cavity wall and loft insulation now pay back "almost by default". For other measures, such as solid wall insulation, the question of cost effectiveness depends on the individual property.
The University of Warwick research identifies 13mn properties in England and Wales that could have insulation installed and their boilers upgraded, at a total cost of up to £65bn. It did not estimate the cost of upgrading the entire housing stock of the UK which encompasses 28mn households.
Fetzer argues that upgrading the UK's housing stock would not only slash bills but also reduce dependence on foreign energy producers, a key focus after Russia slashed gas exports in response to western support for Ukraine.
"What is happening in the current context with the Ukraine war is that energy supplies are used as leverage and as a weapon," he says. "The less vulnerable we are to that sort of blackmail, the better."
The British public appears to agree — and think the government should foot part of the bill. According to a March poll by the Energy and Climate Intelligence Unit (ECIU) think-tank, 84 per cent of the UK population say the government should provide support for households improving insulation to cut reliance on Russian gas.
Progress on energy efficiency has been stalling
Recent rates of installation for key insulation measures point to the lack of a coherent energy efficiency strategy in the UK. "It's a missed opportunity because we know retrofitting reduces the amount of energy you need to heat your home and the amount of support required for poorer households. It creates jobs through the supply chain," says Rowena Champion, the executive member responsible for the environment and transport on Islington council in north London. "It's a win-win for everybody."
The number of homes receiving insulation collapsed in 2013 after the coalition government scrapped existing energy efficiency programmes in favour of a more limited scheme that required energy companies to pay for upgrades to some customers' homes.
A £240mn loan scheme introduced at the same time "flopped quite spectacularly", according to Jess Ralston, senior analyst at ECIU. Other funding mechanisms failed to reverse the drop in installations, which were still 96 per cent lower in 2021 than at their peak.
The lack of incentives, combined with strict planning regulations, risks making more elderly properties obsolete. Catrin Fieldson, a farmer outside Lincoln, says a listed farmhouse near her home is sitting empty because the cost of its renovation is beyond the owners' means.
"Its listed status will actually speed up its demise as current rules would disallow the use of cheap natural energy while insisting on historic materials and methods, which, if one could pay historical wages, would be ideal," she says.
Experts say more people are now becoming aware of the issue of energy wastage at home, but few households can justify the large upfront investment for insulation in the economic climate.
"Interest rates are going up. So getting loans for these kinds of things is getting more expensive too. And people probably don't have that much cash lying around because of the pressures of inflation and economic uncertainty," Rosenow says.
He says the lack of public spending on energy efficiency in recent years has been "scandalous".
Fetzer, from the University of Warwick, says the energy price guarantee is poorly targeted and disproportionately benefits affluent households which tend to use the most energy. For the same money, he says, "you could offer much more targeted support to low income households and strengthen the incentives for people to upgrade their properties. That's what we ultimately need to do."
"If we spend billions on subsidising bills, then asking for a very modest increase in spending on energy efficiency doesn't seem too outrageous to me," Rosenow says.
If you represent a local council or a business struggling to retrofit old homes, we want to hear from you. Please email community.journalism@ft.com with RETROFIT in subject line.
Reporting, data analysis and development by Niko Kommenda and Ella Hollowood.
Visual storytelling by Niko Kommenda, Irene de la Torre Arenas, Caroline Nevitt and Sam Joiner.
Additional development by Oliver Hawkins. Additional reporting by Leyla Boulton.
Data sources
All data on energy bills and potential savings based on work by the CAGE research centre: Fetzer, T., Gazze, L., & Bishop, M. (2022). How large is the energy savings potential in the UK?. CAGE Working Paper 644.
The analysis is based on a publicly available database of energy performance certificates (EPCs) for 22mn homes in England and Wales and additional data sources such as NEED consumption statistics.
CAGE, which is funded by the Economic and Social Science Research Council, supported this research.
How does the interactive calculator work?
The postcode you enter is matched to an output area — a small geographical unit covering about 120 households. The estimated bills and savings are averages for those homes that match the size, age, property type and heating options you select. The bar chart showing the distribution of bills in your area is based on your wider neighbourhood — a middle super output area covering around 3,000 households.
Recommended upgrades are measures that could significantly lower your energy consumption and are frequently listed in EPCs that match your filter settings. They might not always be practically feasible to install in your home.