The world's emergency service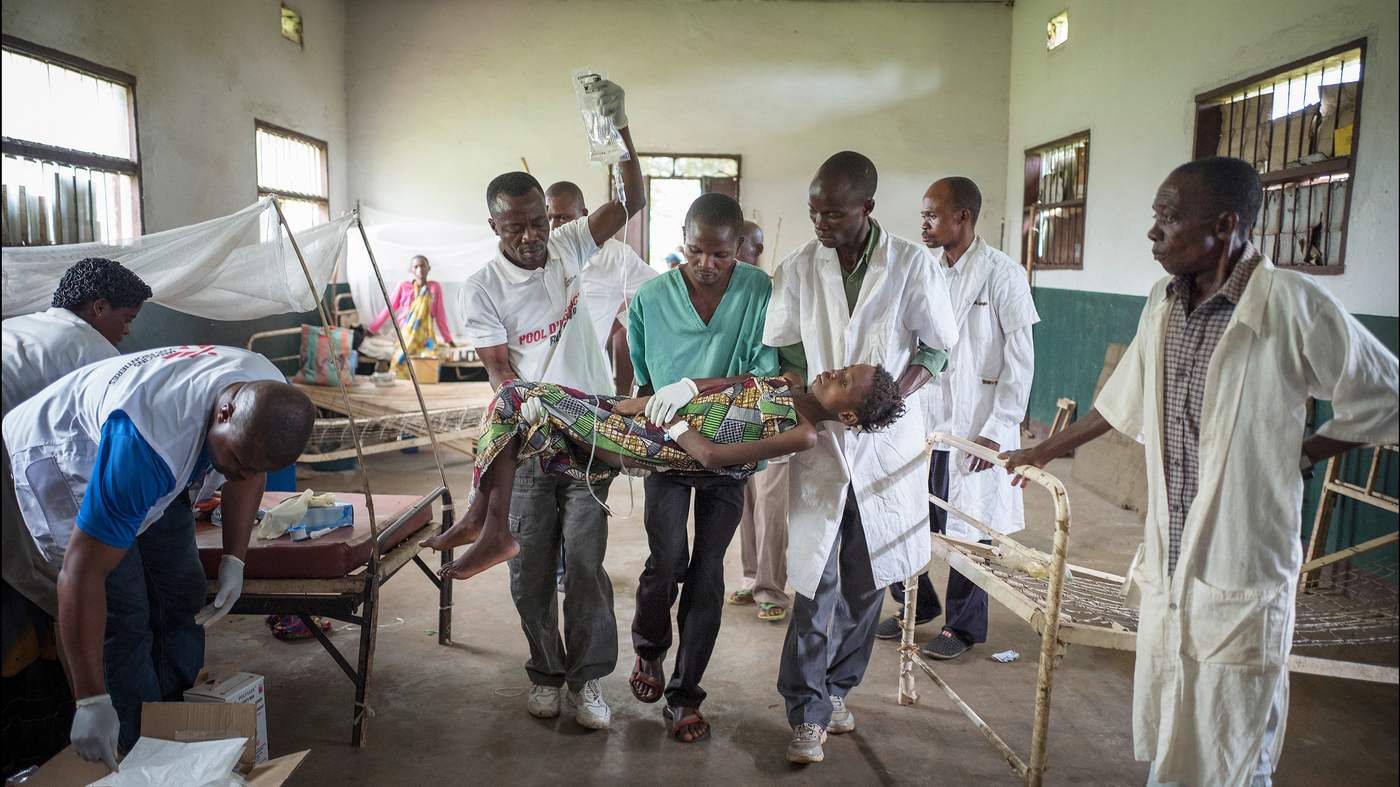 The FT's Seasonal Appeal 2016:
Médecins Sans Frontières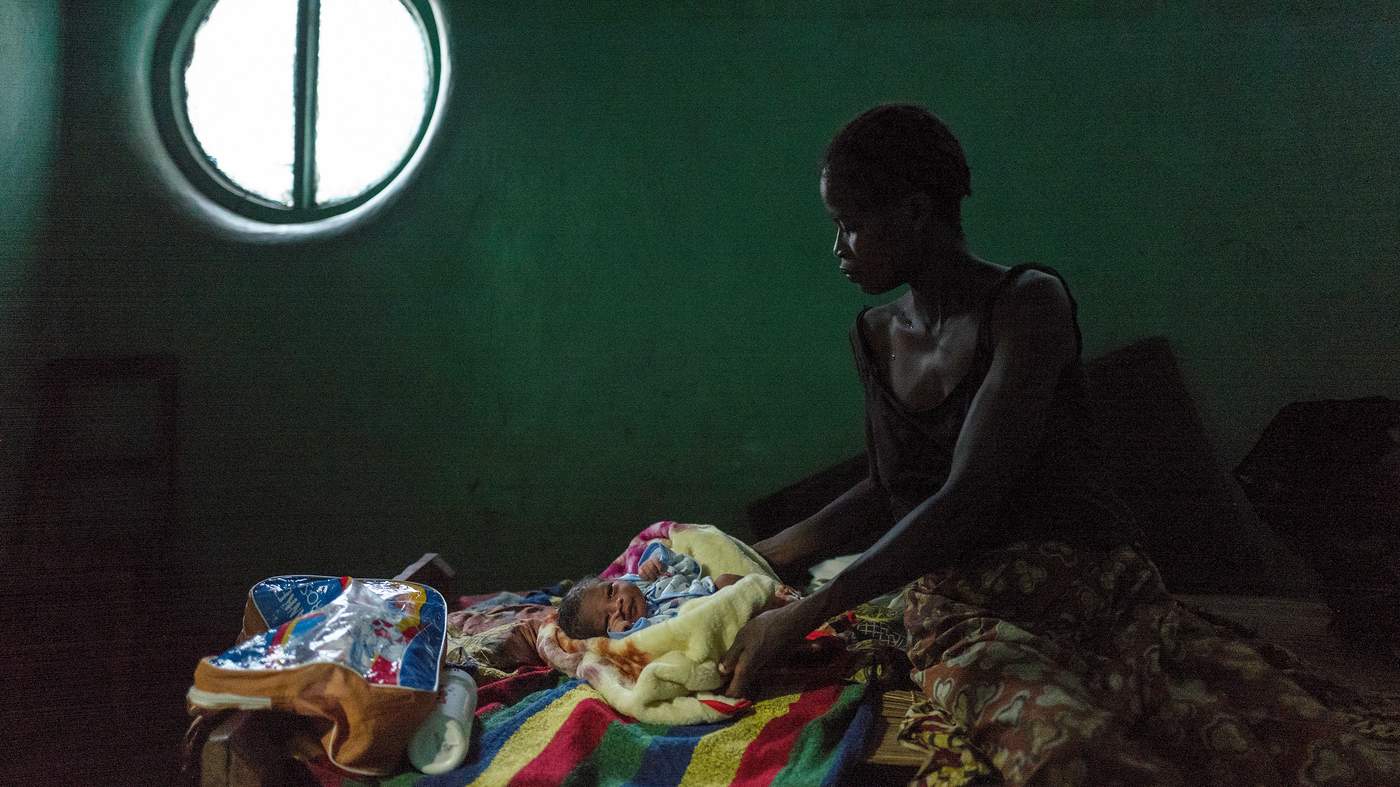 In the Democratic Republic of Congo, typhoid has broken out, surgery needs performing and healthcare is almost non-existent. Enter the staff of Médecins Sans Frontières, a charity that works to save lives in regions blighted by war, disease and disaster across the globe. David Pilling joins them. Photographs by Charlie Bibby
Martine Hennaux flounces into the camp and flicks at her bobbed hair. "Chanel," she jokes, though whatever she is wearing, it is unlikely to be French perfume. In the midst of this typhoid epidemic in the Democratic Republic of Congo, the eau de cologne of choice is mosquito repellant and strong antiseptic.
There's a touch of gallows humour about "Dr Martine", as everyone calls her, doubtless a useful armoury for someone who, at 60, has spent much of her life performing surgery in some of the most difficult parts of the world.
She is a rake of a figure with wrinkled, weather-worn skin, but her personality fills a room, or, in this case, a dirt yard at the back of an old missionary house where Médecins Sans Frontières/ Doctors Without Borders has set up emergency operations. Wearing trainers, blue socks and khaki shorts, she carries a small backpack over her white MSF T-shirt. She has wire-rimmed spectacles and a battle-worn expression that mixes detachment, amusement and devil-may-care cynicism.
"In the evening there's nothing to do," she says in her strong French accent, surveying the camp with its two pit latrines and cold-bucket showers. "No opera. No movie. And the food here is awful," she adds, grimacing at the plastic tubs of gritty white rice, mashed-up manioc fufu, slimy African greens and chunks of goat meat.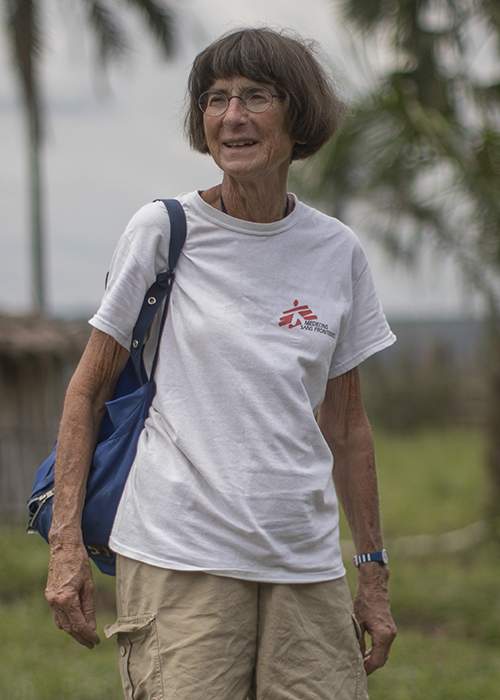 This typhoid outbreak is Dr Martine's twenty-first MSF "mission", an association that began in Ethiopia 25 years ago. In 1995 came mine-cluttered Angola, where she learnt, through practice, to amputate an arm in 25 minutes. Then, in Sierra Leone, she helped heal the wounds of children whose hands had been hacked off by machetes during the country's gruesome civil war. When she left, she weighed less than 90lb.
In the mid-1990s she spent three years in Rwanda, after the genocide in which 800,000 people were killed in a matter of weeks. "That was very nice," she says of the mission, her jarring expression a product of less-than-perfect English and a professional detachment acquired over decades of witnessing horror at close hand.
It is MSF's neutrality that keeps her going. The organisation makes no distinction between victim and perpetrator, government or civilian, child soldier or desperate mother. The windows of MSF vehicles bear a picture of a red AK-47 with a line struck through, like a no-smoking sign. "For us, you're a patient," another MSF volunteer explains. "You leave your guns and your identity at the door."
In Rwanda, where Hutus carried out genocide against Tutsis and their Hutu sympathisers, Dr Martine had little interest in knowing the root causes of the conflict, or who was who. "I didn't want to know that this man was a 'killer man', that he killed a lot of people," she says. "It's better not to know."
From Paris to Biafra
MSF had its roots in Paris 1968. Inspired by student idealism, six volunteers – two doctors, two clinicians and two nurses – headed off to treat patients in Biafra, southern Nigeria. Biafra had declared independence only a few years after Nigeria itself had slipped loose of British colonial rule. The central government responded by bombing and blockading the would-be breakaway state, causing mass starvation.
The six volunteers, including Bernard Kouchner, who would go on to become France's minister of foreign affairs, not only treated patients in the midst of war. They also spoke out about the atrocities they were witnessing. Témoignage, or "bearing witness", became a crucial part of MSF's culture. So was disregard for man-made boundaries. Kouchner described its philosophy thus: "Go where the patients are. It seems obvious, but at the time it was a revolutionary concept."
MSF was officially founded in 1971. Its first big mission was to the Nicaraguan capital of Managua, where an earthquake had destroyed much of the city and killed thousands. From then on, MSF doctors began to turn up in disaster zones, natural or man-made, around the world. They went to Cambodia to treat people fleeing Pol Pot's genocidal regime and, in 1976, to Lebanon, where civil war had erupted.
In 1979, MSF split. A new generation of leaders thought it had to be better organised if it were to evolve beyond a few gung-ho doctors flying into danger zones with plastic bags full of medicine. Kouchner, who wanted to preserve the anarchistic spirit, left to form his own organisation, Médecins du Monde.
The new MSF scaled up and developed a permanent structure. It retained many of the ideals of its founders: to this day, it is wary of accepting funding from governments, businesses and large organisations, preferring the flexibility that comes with smaller donations.
In 1980, true to its sans frontières principles, it sent a medical team clandestinely from Pakistan across the border into Soviet-occupied Afghanistan, to reach injured civilians. It continued to speak out. In 1985, it was expelled from Ethiopia after denouncing the Marxist government of Mengistu Haile Mariam for withholding food aid and using famine as a weapon of war.

Watch MSF in action in 360° video

It was not until the late 1990s that, as the Financial Times' pharmaceuticals correspondent, I came into direct contact with MSF. Its advocacy arm was at the forefront of a battle with drug companies, which it accused of denying life-saving medicines to poor patients, particularly those with HIV.
MSF saw the industry's purely commercial stance as morally indefensible. With others, it mounted a campaign that eventually forced drug companies – through legal and moral suasion – to forgo patent protection in medical emergencies such as Aids. It encouraged them to develop a new pricing model, based on the ability of people in different countries to pay. Partly as a result, millions of people living with HIV in Africa and Asia today have access to cheap versions of antiretroviral drugs, which can fend off the disease indefinitely.
In October 1999, I was attending an MSF conference in Paris to explore a related theme – the neglect by drug companies of tropical diseases such as sleeping sickness and malaria. I was about to interview the then MSF president, James Orbinski, when his mobile phone rang. The colour drained from his face. "That was the Nobel committee," he said. "We've just won the Nobel Peace Prize."
In his Nobel Lecture in Oslo a couple of months later, Orbinski set out MSF's principles. "Humanitarian action is more than simple generosity, simple charity," he said in a speech of great eloquence. "More than offering material assistance, we aim to enable individuals to regain their rights and dignity as human beings."
These days it has an annual budget of more than $1bn and employs more than 30,000 mostly local staff in nearly 70 countries. It has 24 associations and five operational centres in Europe – based in Brussels, Paris, Amsterdam, Barcelona and Geneva – which run the organisation and dispatch teams to emergencies. In 2015, according to its website, it consulted more than 8 million outpatients, treated 2.3 million people for malaria, rescued 23,700 migrants at sea and assisted in 219,300 births.
There is inevitable concern among some staff that the bigger it becomes, the more distant it will grow from the radical vision of its founders. Sometimes it speaks out. But it has also learnt to keep quiet, if that is the price of accessing patients in countries with prickly regimes.
Dr Martine has watched the change. She teases her colleagues by calling MSF "Meetings Sans Frontières", a dig at the procedures and paperwork that have mounted in an organisation that must be accountable to donors and patients. The purpose of being in the field is to treat the sick, she says. "Not typing," she adds, making a disdainful motion in the air like someone running their fingers over a keyboard.
"If you become bigger and bigger and bigger, it's true, you need more rules to follow. It's very difficult to avoid this evolution. It has to be like this," she acknowledges. Then, with a look of nostalgia, she adds, "But it was nicer before."
A very poor rich country
The Democratic Republic of Congo, where MSF has been involved since 1981, is one of its biggest operations. That's probably because the country has been in more or less perpetual crisis for decades. MSF employs 3,000 staff here and spends about $100m a year. It is a large sum but a drop in the ocean in this vast nation 10 times the size of Britain with a population of 80 million but a barely functioning state.
Like many newly independent African countries, Congo – not to be confused with the much smaller Congo-Brazzaville next door – started out with great hope. Under its first elected leader, Patrice Lumumba, it sought to overcome its brutal Belgian colonial legacy. In theory, it was a rich country, blessed with prodigious quantities of diamonds, gold, copper and uranium. But it got sucked up in cold-war politics.
In 1965, Mobutu Sese Seko overthrew Lumumba in a coup and – protected by the west, which saw him as a bulwark against communism – spent the next three decades looting the country he had renamed Zaire. In his remote village of Gbadolite he erected a "Versailles in the jungle", and built a runway for Concorde to facilitate supersonic shopping trips to Paris.
The country he "governed" was left to rot. Devoid of physical or institutional infrastructure, it was not so much a state as what The Economist called "a Zaire-shaped hole in the middle of Africa". Mobutu was overthrown in 1997 and the country, though no more democratic than it had been before, renamed the Democratic Republic of Congo. Today, the average annual income in Congo is less than $500 and life expectancy is 57. Blessed with natural resources, it is one of the poorest countries on earth.
Congo keeps MSF busy. This year it has carried out a huge vaccination campaign against yellow fever after a life-threatening outbreak, worked with an influx of refugees from South Sudan, and helped treat the wounded in Kinshasa after violent clashes between police and protesters angered at the postponement of elections.
I've come here to cover a typhoid outbreak, one of 10-15 emergencies that MSF responds to in Congo each year. In one of MSF's residential compounds in Kinshasa, the buzzing capital of 12 million people, where music pounds on every street corner, Julien Binet, who heads the emergency response unit, says, "The goal is to respond to humanitarian emergencies. It could be cholera, it could be Ebola or typhoid fever, or it could be la peste. How do you say that in English? The plague?"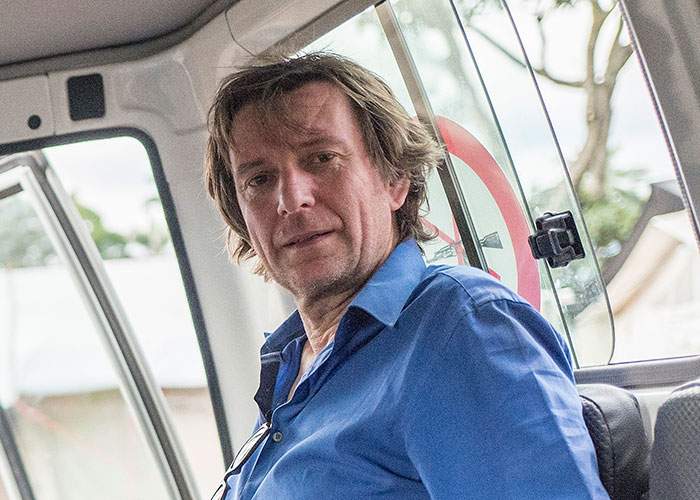 Read David Pilling's road diary from his trip to Congo: including caterpillar stew Kinshasa-style, bucket showers and an encounter with a heroic Belgian nurse

We will be travelling to Mukedi, a village of 13,000 people in Kwilu province, which is at the centre of the typhoid outbreak. We'll drive on a section of the asphalt road that links Kinshasa with Lubumbashi, the country's second city, in the south. To get to Lubumbashi takes 10 days or more, depending on the season, but we'll be driving for less than two.
Much of the country has no roads at all. MSF reaches emergencies by plane, motorbike, four-wheel drive, boat and dug-out canoe. "Tomorrow," says Binet, "you'll be taking Road Number One." He pauses. "There is no Road Number Two, so just enjoy it."
The road to Mukedi
Road Number One turns out to be a narrow, two-lane highway that is decent for long stretches, though sections are prone to gaping potholes. At times, the asphalt disappears altogether, giving way to mud and dust. We travel in a two-vehicle convoy of Toyota Land Cruisers under a big sky towards Kwilu province, the setting of The Poisonwood Bible, a novel by Barbara Kingsolver about an American missionary family.
The novel starts in 1959, but many of the descriptions could have been written today. Women walk by the roadside with buckets, shovels and "manioc-root bundles the size of crumpled horses" balanced effortlessly on their head. People are poor but intensely fashion-conscious. A man in a jaunty trilby and raised collar dances to the tinkling rhythms of Lingala in a field outside his hut. Women do their hair in extraordinary space-age styles, the "starbursts of astonished spikes" that Kingsolver describes.
We arrive at the MSF camp at about midday on the following day. The compound is like something out of M*A*S*H, the US television comedy about a mobile medical unit in the Korean war. There's an old stone missionary house, whose walls are plastered with maps showing the extent of the typhoid outbreak.
Staff sit at tables tapping data into computers and monitoring the constant crackle of the radio. Outside, there are tents for most of the 32 staff, a small dining area with plastic chairs, and another tented area where Congolese women prepare food, pounding manioc into fufu with a long stick and preparing the salty local fish.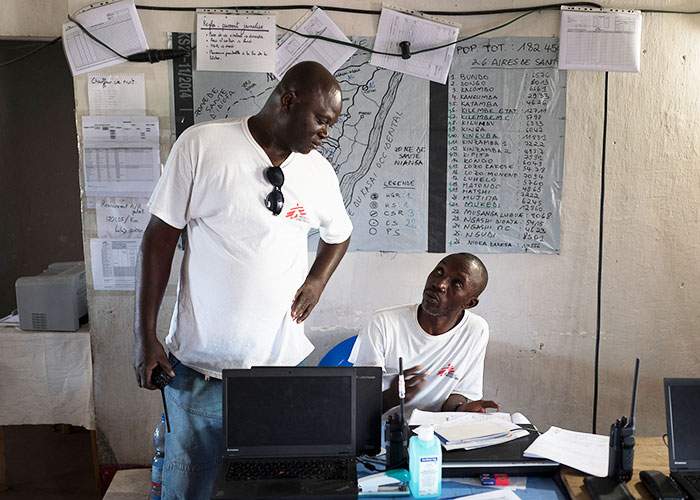 As well as Dr Martine, the surgeon, other senior staff include Emmanuel Onoya, the chief medic, and Joseph Musakane, who is heading this emergency response. Musakane is a quiet man in his early 50s who trained as a nurse and who joined MSF a decade ago after seeing them deal with a cholera epidemic near his hometown of Lubumbashi.
Typhoid is common in these parts, though it has never come to Mukedi itself. The outbreak, he says, probably resulted from the new road. Day labourers descended on the area looking for work. Before long they had established a squatters' camp upstream with no toilet facilities, so people practised what he calls in French "defecation sauvage". Disease was carried into the river where residents bathe and fetch water.
MSF heard about the outbreak in September and sent a small team to investigate. Fully fledged operations started a week later. An MSF team moved in to upgrade the local hospital and establish four mobile clinics and two outpatient centres.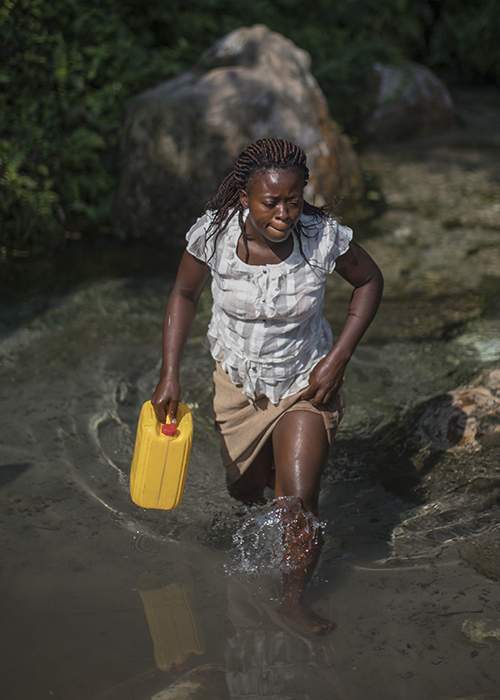 Every day it dispatches motorbikes to the remotest areas, where nurses identify new cases. MSF also has a separate educational team, which explains the symptoms of typhoid and, using pictures and songs, shows people how to prevent its spread. In the six weeks since operations began, it has tested more than 5,000 patients and identified 1,700 suspected typhoid cases.
'The goal is to respond to humanitarian emergencies. It could be cholera, it could be Ebola or typhoid'
Julien Binet, emergency response unit, DRC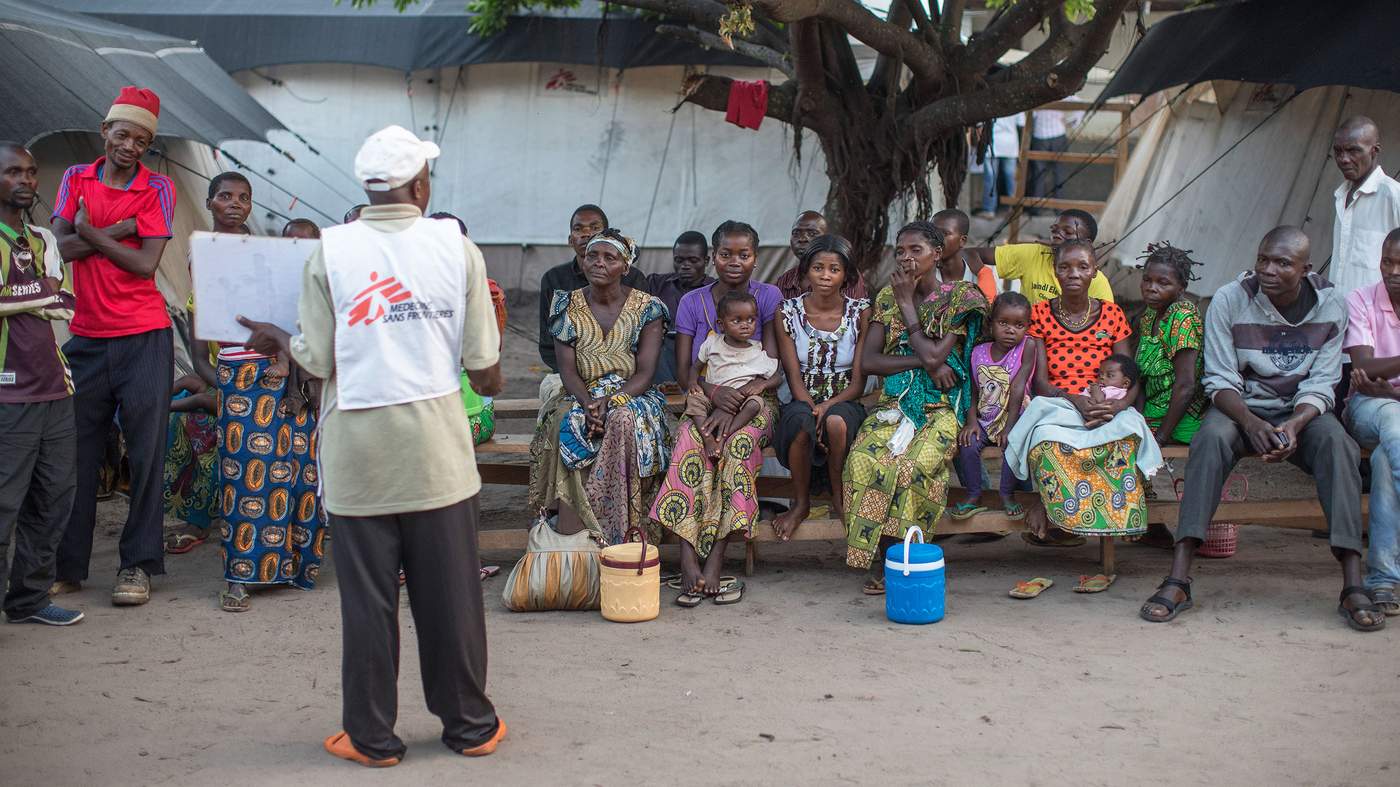 In the most serious, where typhoid has eaten away at the intestines, the only option is surgery. Dr Martine has carried out several operations in the nearby hospital. She is a jack-of-all surgeries, performing operations from C-sections to skin grafts and amputations.
In Mukedi, she is using a technique developed in Colombia called "the Bogota", in which the abdominal wall is left open after surgery so that doctors can monitor infection. If all goes well, the patient can be stitched back up. If not, a second operation can be carried out without having to open the patient up again.
She has already saved one young man, Mavi Kubeteka, 17, using this technique. He was found by the MSF team after an unsuccessful operation for typhoid in a hospital in Gungu, a neighbouring district. His father had spent all his money – raised by selling his herd of four goats – to pay for the treatment. But it had not gone well.
When Mavi arrived at the hospital in Mukedi a few days earlier, he had been close to death. After two further operations he is on the mend – a stick-thin boy of few words, but one able to walk gingerly through the hospital grounds dressed in an AC Milan Football shirt and canary-yellow shorts.
His father is grateful, if financially ruined. I ask him whether he thinks the administration of Joseph Kabila, who has been president since 2001, should do more to bring healthcare to the community. "I'm a poor man. I'm ignorant of these things," he replies, considering my strange idea that a government might provide for its people. "But I never heard of such a thing."
The following morning we set off in two vehicles to pick up a 13-year-old girl, Felly Katembo. She is in a similar situation to Mavi. She had an operation in a local hospital to remove part of her typhoid-damaged intestines, but things have gone wrong and she needs another one. The idea is to bring her back so that Dr Martine can perform the surgery. The previous night Dr Martine had bid us goodnight with typically black humour. "Have a good trip tomorrow," she said. "Don't come back with a dead body."
The start of the four-hour drive is on asphalt, but we are soon lurching and bumping over a red-earthed track so uneven it feels like the surface of Mars. After lurching and bumping over a red-earthed track, we reach the shabby hospital where Felly is alone in a sunless ward. Her family is camped beside the bed, eating food from cooking pots. Felly is lying, almost unconscious, on a rickety bed with no sheet.
Doctors appear to have stopped treating her. It transpires that her family has run out of money. In this hospital, where the staff say they get no salary, nothing gets done unless the patient pays.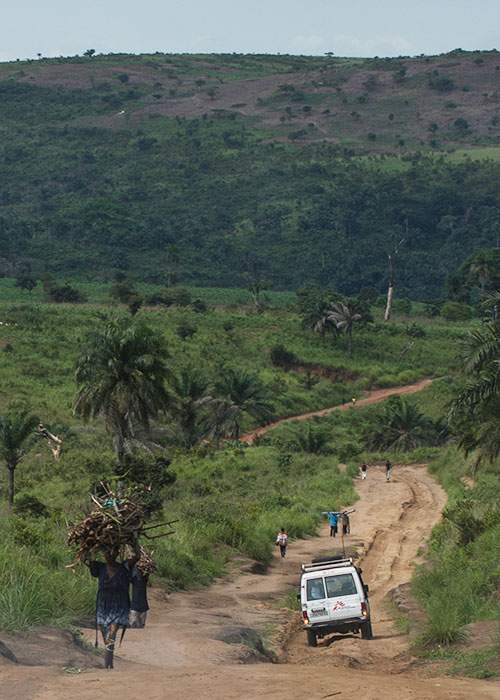 MSF staff huddle around Felly's prostrate body. They attach a drip and offer her a peanut-based mixture from a plastic sachet. Felly revives with the food and starts chewing slowly. But the sustenance has reawoken her pain. She starts moaning and calling for her mother. There's no time to lose in getting her back to the MSF facility in Mukedi.
Doctors and nurses lift her up, and her head jolts back. In that instant, in her limp, Christ-like suffering, she resembles a Congolese Pietà.
She is put in the back of one of the Land Cruisers for the drive back to Mukedi. The doctors show us where they performed the initial operation, a cupboard-sized room of moderate cleanliness with a charcoal-fired autoclave for sterilising surgical equipment.
Nearby, a trolley stands with the empty boxes of antibiotics and medicine that the family bought before their money ran out. As the Toyota pulls away, an argument breaks out. The doctors are angry that MSF has "stolen" their patient without offering compensation.
We follow behind in a second vehicle. After a couple of hours the radio flickers into life. There's a message from the vehicle ahead. Something about the patient. The radio cuts out and we're left to wonder what's going on. Eventually, the voice comes through again. An MSF staffer in our vehicle removes his baseball cap. Felly has died. All we can see inside the other Land Cruiser are the mother's arms, raised in grief.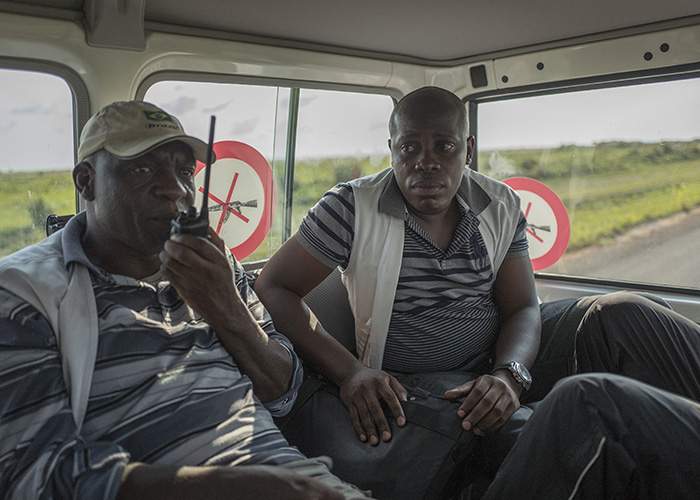 We make the rest of the journey back to Mukedi in silence. Children run out of the mud huts to catch a glimpse of the shiny white vehicle, unaware that they are waving ecstatically at a hearse.
By the time we reach the hospital, Felly's mother has decided she must return immediately to her village. Local custom dictates that her daughter must spend her first night in the afterlife at home.
The Land Cruiser will take them part of the way, but once it turns dark, MSF drivers are not authorised to drive. The family will complete the last leg of the journey by motorbike, Felly's corpse sat upright, wedged between driver and mother.
'This was not my dream as a teenager. I wanted a house and a family. But in the operating theatre I know what to do'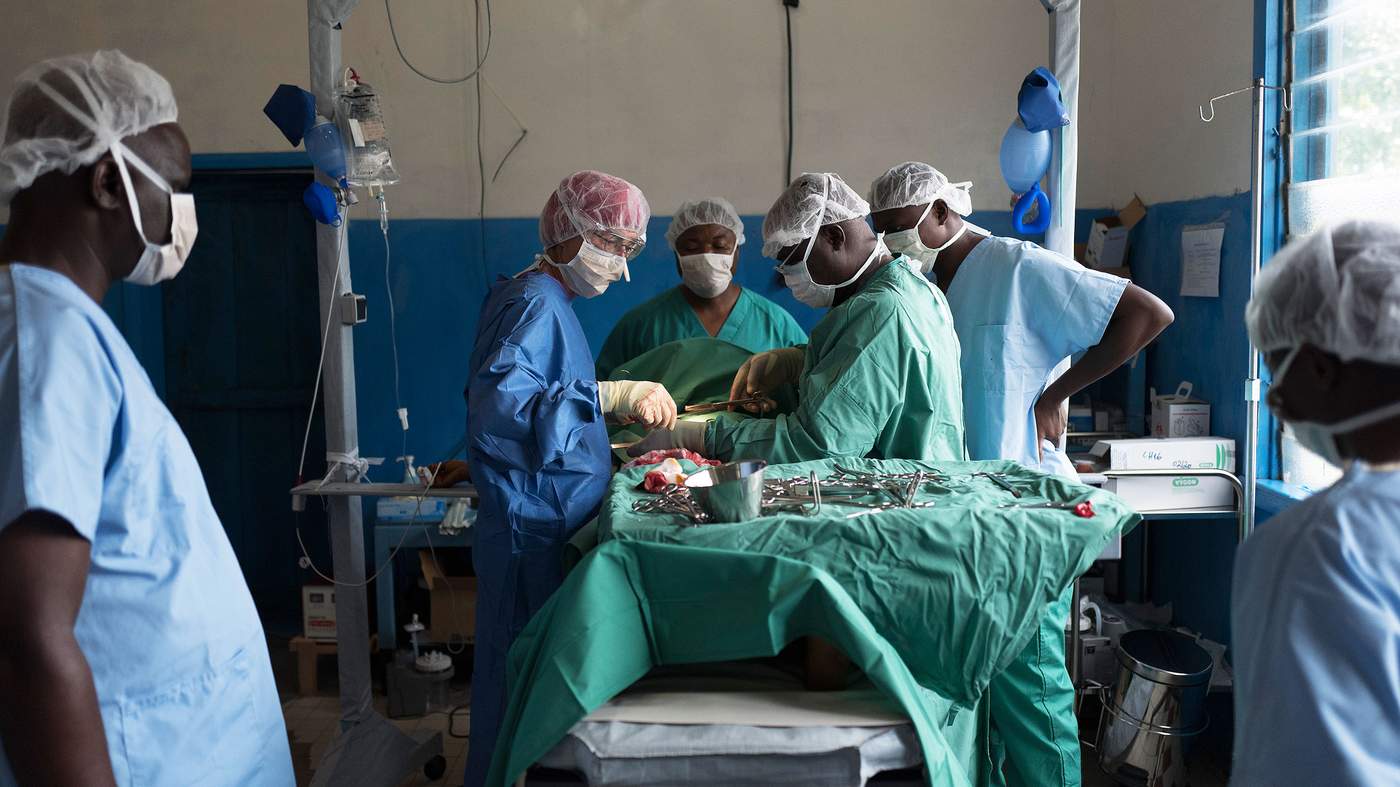 Dr Martine's mission
Back at the hospital Dr Martine is doing her rounds. "If the child doesn't want to eat, don't force them," she is saying sharply, referring to a patient whose intestines are not sufficiently healed to digest heavy food. "They eat this fufu and it sticks to the gut," she says in exasperation.
Dr Martine had not bargained on this life. As a young girl studying in Brussels, she had other plans. "This was not my dream as a teenager. I wanted to have a house and family."
But after studying pharmacology and medicine, and practising for several years in Europe, she volunteered to go to Africa. One assignment led to another. Before she knew it, she was 40, she says, then 50, then 60. "In the operating theatre, I know what to do, but in life I am indecisive," she sighs. It is all too easy to drift from one emergency to the next.
In one of the wards she sees a mother and baby. She had performed a C-section on the woman only a few days ago and the baby, now swaddled in bright cloth, is lying on the bed next to her happy mother. She checks her patient and moves on.
Dr Martine can seem detached, but it is partly an act. At lunchtime I catch her walking to the local market and later discover that she had gone to buy clothes for the baby. Back on the ward, I ask the mother what she named her child. Almost before she replies, I know the answer: "Martine."
---
All donations received before January 31, 2017 will be matched, up to £300,000, by the ELMA Relief Foundation, a private charitable foundation that supports communities affected by man-made or natural disasters.
Gimasa Musumadi and her daughter Martine, named after "Dr Martine" who delivered her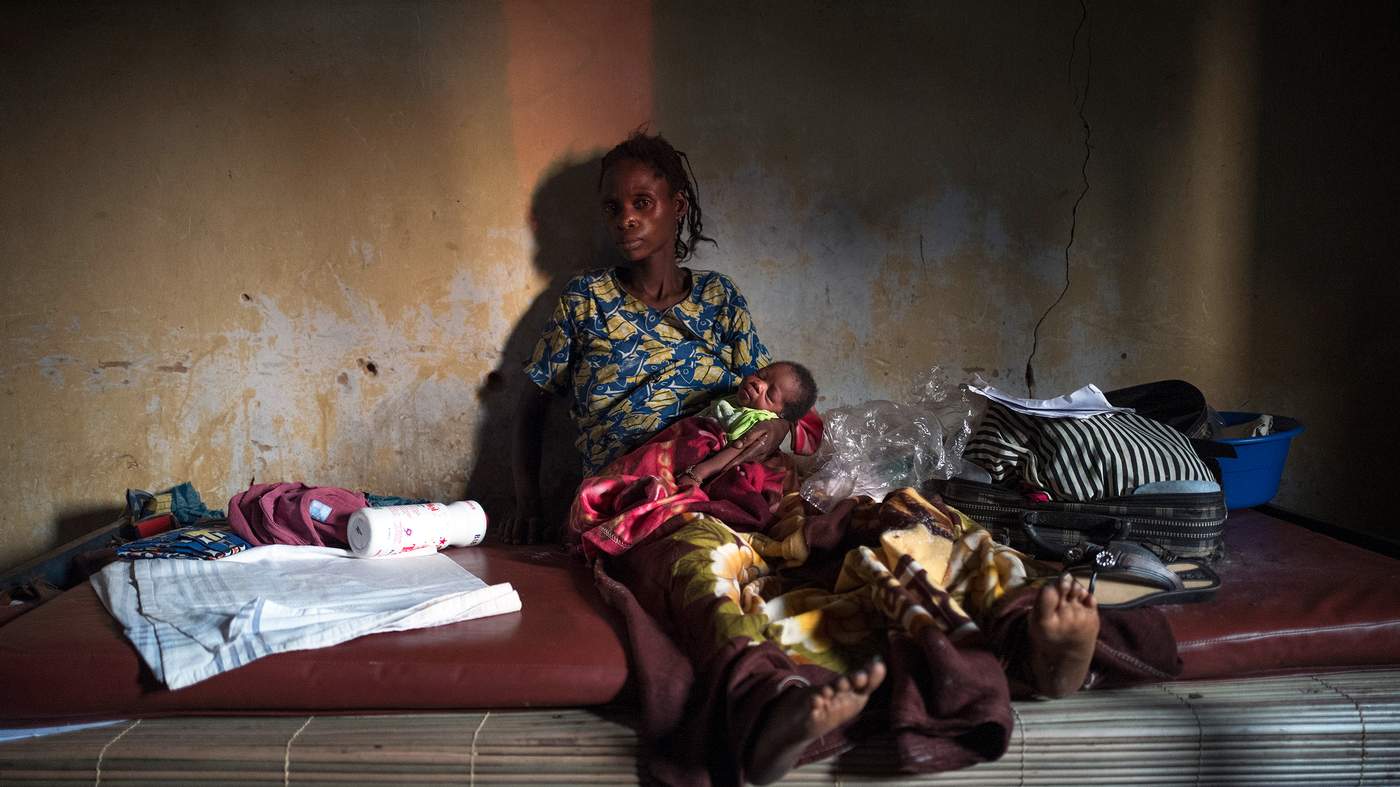 Report: David Pilling, Africa editor
Photographs and videos: Charlie Bibby
Editors: Alice Fishburn, Esther Bintliff
Series editor: Sue Matthias
Sub-editing: Sophie Hanscombe
Project management: Aleksandra Wisniewska
Mapping: Steve Bernard
Design: Kari-Ruth Pedersen